×
HAKAB NA OLONGAPO 2019
2019
August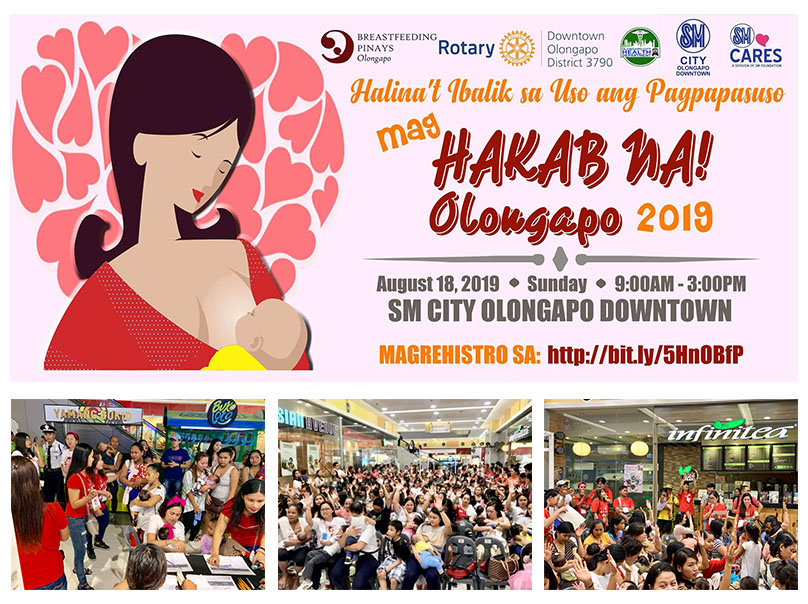 Do you know that babies who get mommies' milk tend to have lower risks for serious respiratory conditions, ear infections and stomach bugs; offers protection for mommies against high blood pressure, type 2 diabetes, as well as heart disease, breast and ovarian cancers?
Plus, you are helping our Mother Earth too! Breastfeeding your baby over formula milk helps to reduce the amount of land needed for grazing cows and packaging required to make infant formula products. Cool, right?
For the 5th time, Isabelita Rosueta Organization (IROG) supported our yearly Breastfeeding Month Hakab Na 2019 community service with the Breastfeeding Pinays of Olongapo and Rotary Club of Downtown Olongapo held at SM City Olongapo last August 18, 2019.
Kita-kits again in 2020! Halina't ibalik sa uso ang pagpapasuso.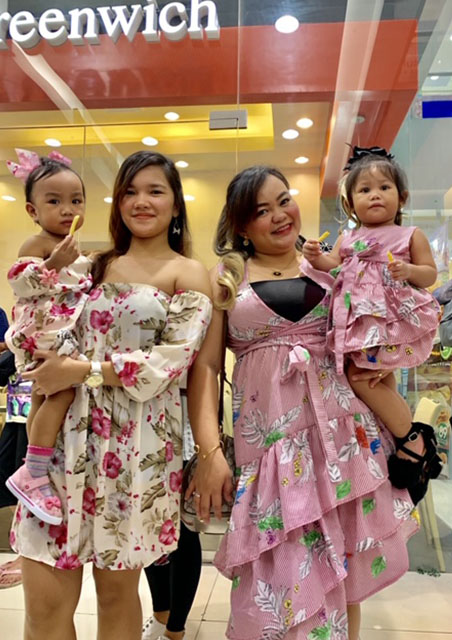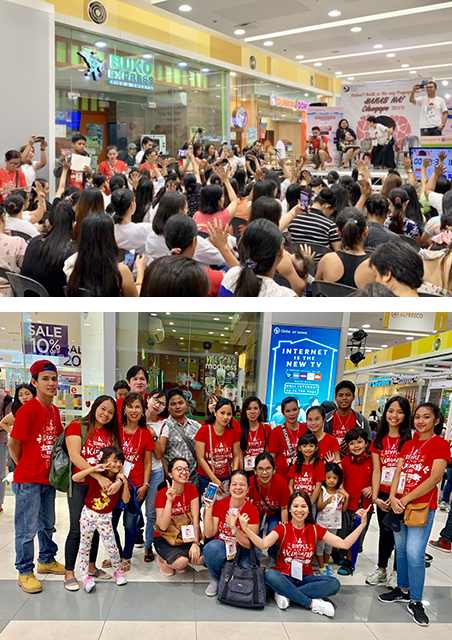 HAKAB NA OLONGAPO 2018
2018
August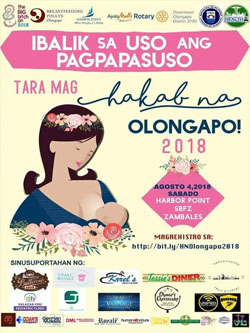 Hakab na Olongapo is on it's 4th year of celebrating and educating mothers from Olongapo, Zambales and Bataan, the importance of breastfeeding.
Isabelita Rosueta (IROG) Foundation joined the activity last August 4, 2018 at Harbor Point Activity Center. Ready to assist the participants and be part in spreading knowledge about the significance of breastfeeding.
A total of 186 breastfeeding mothers participated in the said event and 170 babies were successfully breastfed.
To all the 486 attendees, this is another fruitful year of sharing and gathering for a beautiful purpose. Let's all help in spreading the advocacy "Ibalik sa uso ang pagpapasuso".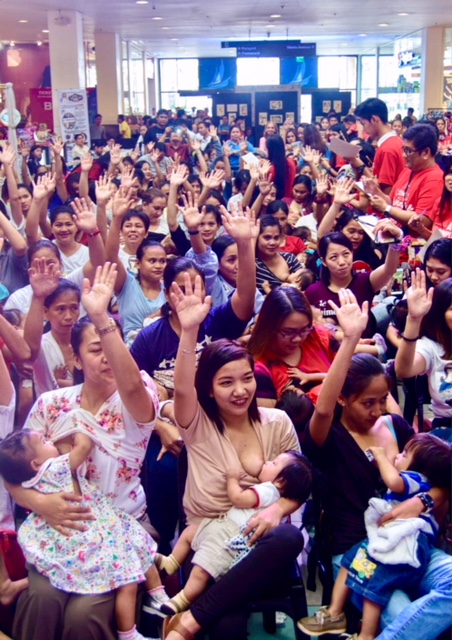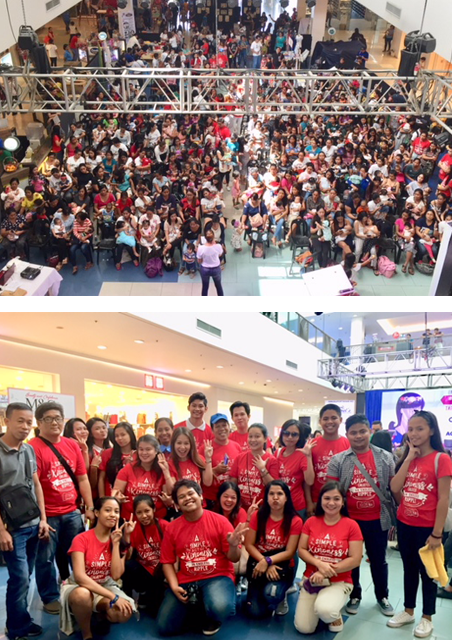 HAKAB NA OLONGAPO 2017
2017
August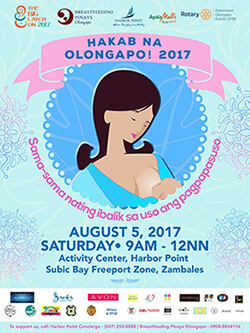 As part of the celebration for the World Breastfeeding Awareness Week and National Breastfeeding Awareness Month every August, Isabelita Rosueta (IROG) Foundation participated in the HAKAB NA OLONGAPO 2017 with the theme "Sama-sama nating ibalik sa uso ang pagpapasuso" at Harbor Point Ayala Mall Activity Center last August 5, 2017.
The event was spearheaded by the Breastfeeding Pinays Olongapo (BFP Olongapo), with the advocacy of promoting breastfeeding in Olongapo, Zambales and Bataan. They are educating the mothers and soon to be moms the importance of breastfeeding not only for their babies but as well as for themselves.
The event was a success with the participation of 127 breastfeeding mothers, 127 babies who latched on successfully with a total of 405 people in attendance including the volunteers and supporters.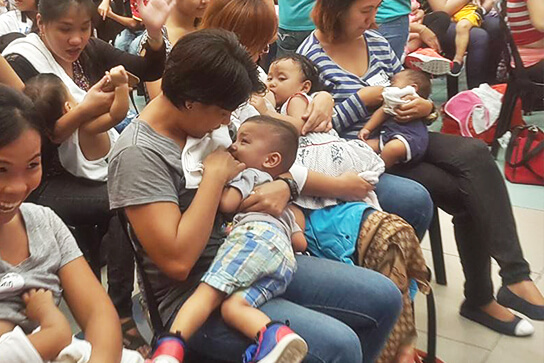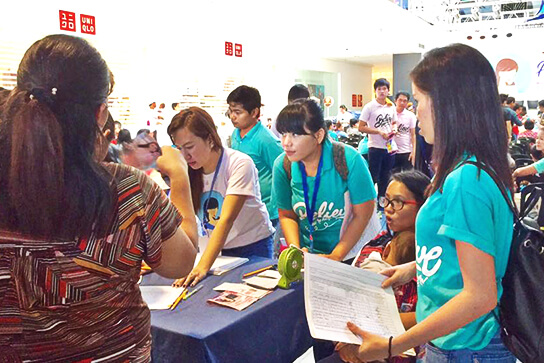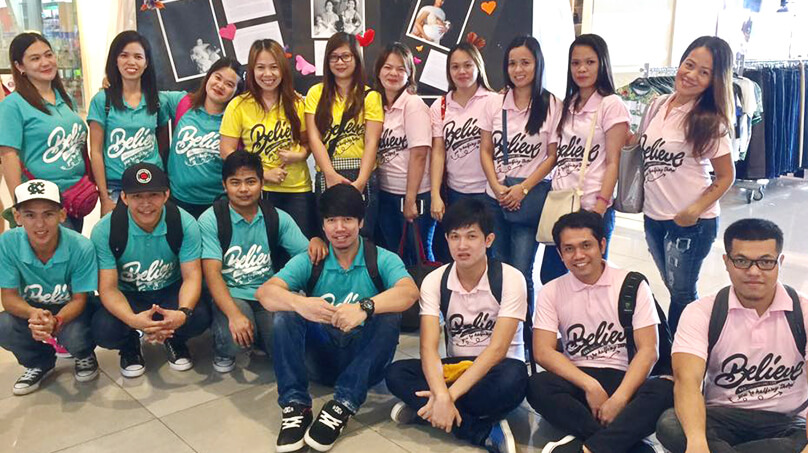 The Promise of Young Smiles

BY EDHILBETH ANN CORRE
2016
September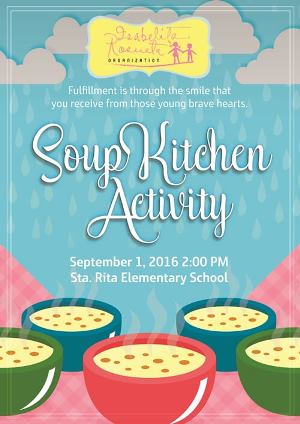 "Children are the world's most valuable resource and its best hope for the future." – John F. Kennedy
It's known to many that this quote inspired a lot of people and organizations around the world. It's like a message that highlights the great importance of children as they are the most precious treasures a community can have. They are the promise and guarantee of the future; so they should be taken care of all the time.
Members of IROG Foundation, along with LGO employees, used this quote as our inspiration in giving excellent service to adorable little children during our recent activity called "Soup Kitchen Activity" at Sta. Rita Elementary School on September 1, 2016.
September 1 seems to be an ordinary day for all Grade 1 students of the school; but for the members of LGO and IROG, it was truly a special day because everyone wants to share their purpose of giving to a lot of charming, little students that day.
The staff of IROG Foundation wholeheartedly prepared the food that we were going to deliver to all Grade 1 students of the said school. But before I elucidate the topic regarding the food, I would like to share how we were all excited before we even departed from our office.
While we were preparing to leave, we were already imagining the sweet responses we will receive from the children and it was enough reason for us to become more motivated. Even though it was hot outside and we needed to travel for a few minutes before we could even get there, all of us had enough strength to work hard for them because we were eager to perform this beneficial activity.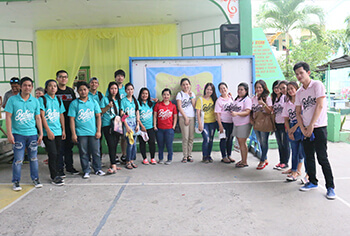 At exactly 1PM, we left the LGO compound to begin our voyage to the school. All of us rode a jeepney to get there and during our trip, I could hear some of my colleagues' excited conversations and their words were all filled with enthusiasm.
While we were on our way to the school, I couldn't help myself but imagine the endless gratitude we will receive from those children. The thought of it made me more effervescent about our activity. A few minutes had passed since we left our office; and we finally arrived at our destination.
Sta. Rita Elementary School has a tranquil surrounding and the moment we entered the place, I could feel the anticipation rushing through my veins. Watching the parents patiently waiting for their children inside the campus made me miss the old days.
As we looked around, you would notice the simplicity of the school and appreciate its charm. It was only a moment but it felt like I had been visiting the school for a number of times already because I felt comfortable being inside the school grounds. But it was then that my colleague led me to where the staff of IROG Foundation was. Everything was set and they were only waiting for us to arrive.
We rushed to the place and readied ourselves for our activity. And since it was a soup kitchen party, I already expected to see some delicious soup and to my surprise, there were also a lot of tasty bread. But before we even began, we didn't forget to offer a prayer to God and express our gratitude towards all the blessings we received and asked His guidance to make this activity successful.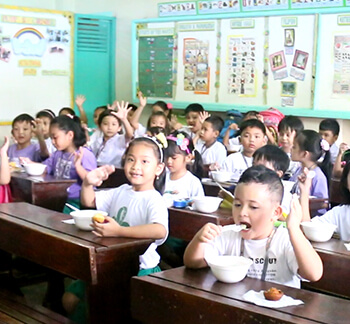 After the prayer, everyone was now focused on serving the children. Our first destination was the farthest room of the left building. You can't help but giggle once you saw the surprised expression from the students because they were all very cute with their shocked faces.
Each class gave us a warm welcome and you would have seen in their eyes that they were really happy and some of them couldn't wait to taste the foods that IROG especially prepared for them. Some of the children were doing little cheers for us and kept on pointing at their location, telling us to go faster to them.
The children were all charming and lovely, you will never have gotten tired looking at them being so joyful and thankful about their soup and bread. After we distributed their food, some of them already ate their bread, and it was cute how they said "It's so tasty!" after just one bite. But their teachers never forgot to remind them that they needed to thank God first and offer a prayer before eating.
Sta. Rita Elementary School has 6 classrooms for Grade 1 students, and even though some rooms were quite far from each other, LGO and IROG members didn't mind it. I could see some of my colleagues sweating hard from carrying the foods; but they still managed to smile and continued to pass happiness to the children.
We were really touched seeing their bright expressions and their mellifluous way of saying "Thank you po" each time we gave them their food. With this activity, LGO and IROG Foundation aim to instill the value of service to those young souls.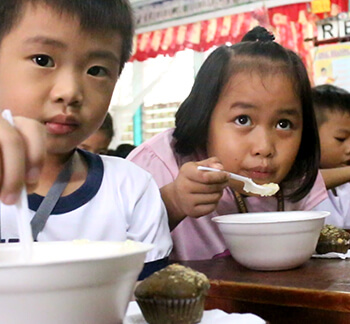 Before we left each classroom, we were encouraging them to always study hard and their responses were bright young smiles with a strong dedication and an honest "Opo" (Yes, we will). I personally translate those smiles as promises that they will do well in their studies and will build their future with optimistic minds. Because of those smiles, I'm confident that our activity truly provides good service to them.
Being a part of this kind of activity makes me so thankful to our company; because aside from giving service to others, our visits at school and charities also teach us life lessons. "Soup Kitchen Activity" taught me how vulnerable children could be, and I realized that each of them really needs proper guidance. I'm suddenly glad schools exist. I'm hoping that this event showed them how much adults really care for their well-being.
I also had the chance to see cute students while studying, a sight I rarely see every day; and seeing those students focused during their recitation or simply copying notes from the blackboard was indeed a delightful sight to see. And because we had more foods left, we also delivered them to some Grade 3 students and called some of the parents waiting outside to have some soup and bread.
I understand that each of us has our own answer to what is the purpose of giving; and I'm glad that I became a member of a company that invariably provides the meaning of giving through activities like this. However, LGO would not be a company like this without Sir Joel Castillo, the founder of LGO and now one of God's angels, who's known as a kind of person who doesn't think twice about giving help to other people, especially to those who are in need.
The first time I became an employee of LGO and saw how Sir Joel, together with all the members of the company, did things, I felt overjoyed because it is not only about the growth of the company that was in the mind of our boss but also the welfare of other people and how to share his blessings with them.
Everything about LGO and IROG is an eye-opener for me at first, such as how everyone treats each other as a family and how everyone participated in sharing their blessings and offering their help to other people. And it seems that our boss' own definition of giving has been passed on to everyone, especially to me. LGO and IROG's deeds taught me that genuine happiness doesn't come from what we get but from what we give.
2013
September
Food is for the body. We eat to refresh and reenergize our body. But rarely do we realize that food ultimately revitalizes our spirit. More often, it seems, we eat with the thought of filling our stomach with food, not realizing that it was the brain and the heart that signalled the stomach to seek food.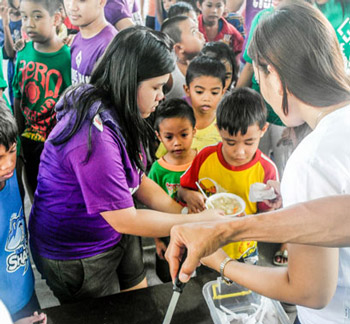 How often do we forget that the heart – a central part of the body – needs more than food to make the whole person happy or satisfied? We eat because we feel hungry. But do we usually think of eating to be happy or to avoid or to remove sadness and depression? Almost never! For the human body is more than a combination of water, air, minerals, vitamins and proteins. It is not the things we eat that give us life but the spirit in us we received from God.
What was the first thing that God did before He created humans? He planted a garden. No, it was not merely a garden – it was a home, a living room, a playground, a menagerie and a vast dining table complete with all the fresh, natural, organic goodies.
Was God happy feeding humans? Obviously! Of course, today we would think God is not at all concerned about humans because millions go hungry and die while others live in abundance and luxury.
Yes, our world is far from the Paradise that we believe our first parents used to live in and enjoy. In fact, we live in a world with millions of people in great need of shelter, education, food and health-care that government and private institutions have their hands full addressing day in and day out. Many of us live not just in hunger but in desperation, not knowing why this has happened to us humans and how we can cope with the gargantuan task of serving the world with food and, as we said, with happiness and contentment in life.
When we feed ourselves, we not only feel good and cheerful; we also experience peace and confidence that life – for many of us, at least – is a great blessing to have. But what do we feel when we voluntary feed others, especially those who have limited resources?

The feelings of goodness, happiness, peace and confidence transform into something close to heavenly joy and triumph. It is as if God's material blessings we derive through our labors take on a sublime -- or call it magical – quality similar to that of owning tons of gold (no, even more valuable and beautiful!), giving us a wonderful new sense of being. It seems as if God Himself is smiling at us and telling us, "Thank you for feeding Me!"
And that is how we become like God – when we feed and care for the hungry. If we were truly made in His image from the start, we portray that divine nature when we, like Him, seek out those who have basic needs and do something to make their life as fulfilling and as comfortable as the way we experience it. It was that way in the Garden as God intended it to be. It should be that way today in the world as He desires it to be. This could not be just a dream. With wars and famine all around us, we have enough of our share of nightmares. Let us keep the vision awake and alive.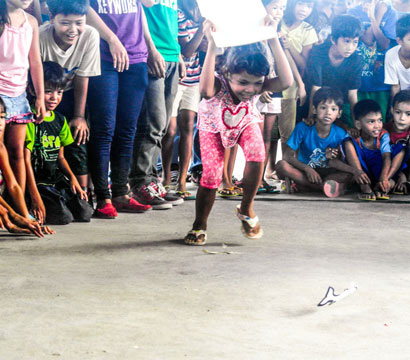 And so, with these thoughts in mind, I express my deep appreciation for Isabelita Rosueta Organization - LogicGateOne Corp, a Search Engine Optimization Company based in Subic Bay, Philippines for the wonderful privilege to be part of their Feeding Program at the Sto. Tomas Elementary School in Subic, Zambales. Under the selfless leadership of Joel and Rose Castillo, the young, dynamic, diligent and caring worker-volunteers of the two companies, together with Alpha Phi Omega Olongapo Alumni Association and other civic-minded members of the community, opened a soup kitchen last Friday, September 6, 2013, for scores of children, as part of Isabelita Rosueta Organization's outreach programs. Mrs. Isabelita Castillo and Mrs. Rosueta Tuazon, in whose names the foundation was named after, graced the occasion. Nanay Rosie opened the activity with a heartfelt and meaningful prayer of thanksgiving for allowing the foundation to share its blessings with the community.
The afternoon event was filled with shrill, festive cries of children playing games under the able guidance of Enrico Santos who acted as emcee, together with Christine Joy Ganoran.
Parents were also on hand to encourage their children who competed against each other in parlor games, badminton, dama and chess. Awarding of prizes to the day's winners ended the program.
And so, no one went home feeling sad, depressed or lonely. And it was not merely because of the food. You know what it was, don't you? Next time, be sure to share not just your time, and experience how feeding and caring for others can make you a happier and richer person that you can ever imagine.